Heart Health
Over-the-counter drugs that can boost blood pressure
If you have high blood pressure, take care when choosing products for treating cold and flu symptoms or pain.
As winter arrives and the cold and flu season starts to peak, many people head to pharmacies looking for products to ease their sniffles and aches. Remedies for cold, allergy, and sinus problems are the most frequently purchased category of over-the-counter drugs in this country. Pain relievers such as ibuprofen and other nonsteroidal anti-inflammatory drugs (NSAIDs) are also very popular — and frequently found in combination cold and flu medicines. But some of these products may be risky for people with high blood pressure. Here's some guidance about what to avoid and suggestions for safer alternatives.
Clearing a stuffy nose
"The most concerning products are those that contain decongestants, because they constrict or narrow blood vessels, which can raise blood pressure," says Joanne Doyle Petrongolo, a pharmacist at Harvard-affiliated Massachusetts General Hospital. When you have a cold, your body sends extra blood to your nose. The blood vessels and nearby tissues swell, causing congestion or a stuffy nose. But if you take a decongestant, it affects all your blood vessels, not just those in your nose. That's why it's safest to avoid products that contain oxymetazoline (Afrin), pseudoephedrine (Sudafed), and phenylephrine (Suphedrin PE).
To continue reading this article, you must log in.
Subscribe to Harvard Health Online for immediate access to health news and information from Harvard Medical School.
I'd like to receive access to Harvard Health Online for only $4.99 a month.
Sign Me Up
Disclaimer:
As a service to our readers, Harvard Health Publishing provides access to our library of archived content. Please note the date of last review or update on all articles. No content on this site, regardless of date, should ever be used as a substitute for direct medical advice from your doctor or other qualified clinician.
You might also be interested in…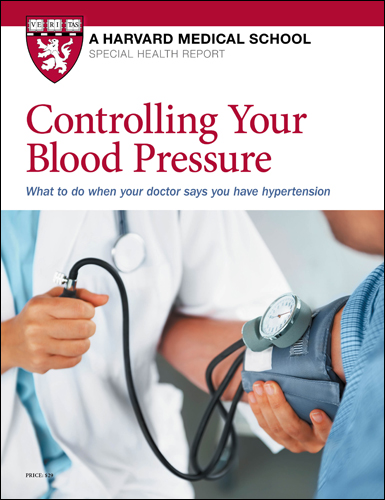 Controlling Your Blood Pressure
An alarming one in three American adults has high blood pressure. Known medically as hypertension, many people don't even know they have it, because high blood pressure has no symptoms or warning signs. But when elevated blood pressure is accompanied by abnormal cholesterol and blood sugar levels, the damage to your arteries, kidneys, and heart accelerates exponentially. Fortunately, high blood pressure is easy to detect and treat. In the Special Health Report, Controlling Your Blood Pressure, find out how to keep blood pressure in a healthy range simply by making lifestyle changes, such as losing weight, increasing activity, and eating more healthfully.
Read More
Free Healthbeat Signup
Get the latest in health news delivered to your inbox!