Heart Health
Meal of the month: A Mediterranean meal
This month's meal comes courtesy of one of our international readers, Ilknur Ebece, who is studying nutrition and dietetics at Medipol University in Istanbul, Turkey. She shared a meal featuring whole grains, beans, mushrooms, and vegetables. In addition to highlighting locally grown ingredients, her meal has two heart-healthy attributes: it's entirely plant-based, and it's an example of Mediterranean cuisine, an eating style proven to help lower the risk of heart disease and stroke.
Olive oil, a staple in Mediterranean fare, is the main source of fat in Ebece's meal. She uses it to sauté a colorful medley of vegetables (including red and green peppers, corn, and carrots) and to prepare mushrooms, which are roasted in olive oil with chopped onions and spices. Dried white beans, boiled until tender, are flavored with onion and dill.
Her meal also features tomato bulgur pilaf, a traditional Turkish grain dish made with einkorn. This ancient grain, which the Turks call siyez, contains slightly more protein and nutrients than modern wheat varieties. Bulgur is made from cracked wheat that is parboiled, dried, and broken into smaller pieces; it's sometimes called "the pasta of the Middle East." The Oldways Whole Grains Council has recipes and more information about einkorn and other whole grains on its website; see https://wholegrainscouncil.org.
Image courtesy of Ilknur Ebece
Disclaimer:
As a service to our readers, Harvard Health Publishing provides access to our library of archived content. Please note the date of last review or update on all articles.
No content on this site, regardless of date, should ever be used as a substitute for direct medical advice from your doctor or other qualified clinician.
You might also be interested in…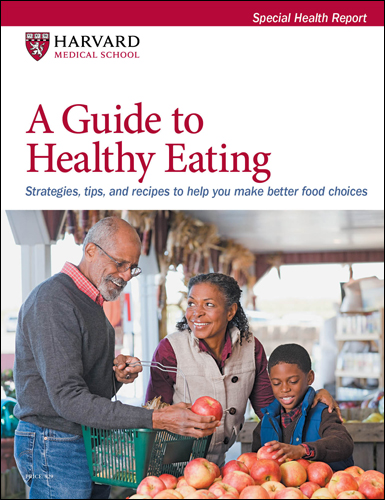 A Guide to Healthy Eating: Strategies, tips, and recipes to help you make better food choices
Eat real food. That's the essence of today's nutrition message. Our knowledge of nutrition has come full circle, back to eating food that is as close as possible to the way nature made it. Based on a solid foundation of current nutrition science, Harvard's Special Health Report A Guide to Healthy Eating: Strategies, tips, and recipes to help you make better food choices​ describes how to eat for optimum health.
Read More
Free Healthbeat Signup
Get the latest in health news delivered to your inbox!