Diseases & Conditions
Which disease starts first?
Ask the doctor
Q. In the April 2021 issue you said that atherosclerosis, obesity, high blood pressure, high cholesterol, and diabetes all were related, and affected each other. Which of them starts first?
A. It is true that these conditions often occur together. Not only that, but having some of them can increase the risk of getting the others. For example, being obese increases your risk of developing type 2 diabetes and high blood pressure. And having either of these conditions, or high blood levels of cholesterol, increases your risk of heart disease and stroke caused by atherosclerosis (in which cholesterol deposits form in the walls of arteries).
How does one condition affect another? As one example, blood banging at high pressure against the walls of arteries injures them, making them more likely to develop cholesterol deposits — and to increase the size of any deposits that already are present. And, as you'd expect, high levels of blood cholesterol also increase the risk for and size of cholesterol deposits.
Which comes first? Cholesterol starts building up in artery walls in childhood. Although it usually takes decades for the atherosclerosis to become significant enough to cause heart attacks and stroke, the disease starts early. That's why, increasingly, cholesterol and blood pressure — long thought of as adult health problems — also are measured and treated in children, not just in adults.
— Anthony L. Komaroff, M.D.
Editor in Chief, Harvard Health Letter
About the Author
Anthony L. Komaroff, MD, Editor in Chief, Harvard Health Letter
Dr. Anthony L. Komaroff is the Steven P. Simcox/Patrick A. Clifford/James H. Higby Professor of Medicine at Harvard Medical School, senior physician at Brigham and Women's Hospital in Boston, and editor in chief of the Harvard …
See Full Bio
View all posts by Anthony L. Komaroff, MD
Disclaimer:
As a service to our readers, Harvard Health Publishing provides access to our library of archived content. Please note the date of last review or update on all articles.
No content on this site, regardless of date, should ever be used as a substitute for direct medical advice from your doctor or other qualified clinician.
You might also be interested in…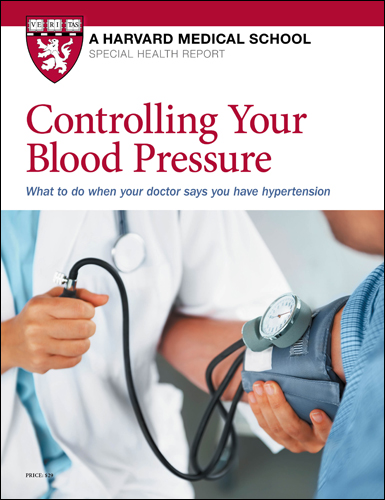 Controlling Your Blood Pressure
An alarming one in three American adults has high blood pressure. Known medically as hypertension, many people don't even know they have it, because high blood pressure has no symptoms or warning signs. But when elevated blood pressure is accompanied by abnormal cholesterol and blood sugar levels, the damage to your arteries, kidneys, and heart accelerates exponentially. Fortunately, high blood pressure is easy to detect and treat. In the Special Health Report, Controlling Your Blood Pressure, find out how to keep blood pressure in a healthy range simply by making lifestyle changes, such as losing weight, increasing activity, and eating more healthfully.
Read More
Free Healthbeat Signup
Get the latest in health news delivered to your inbox!