By

Matthew Solan, Executive Editor, Harvard Men's Health Watch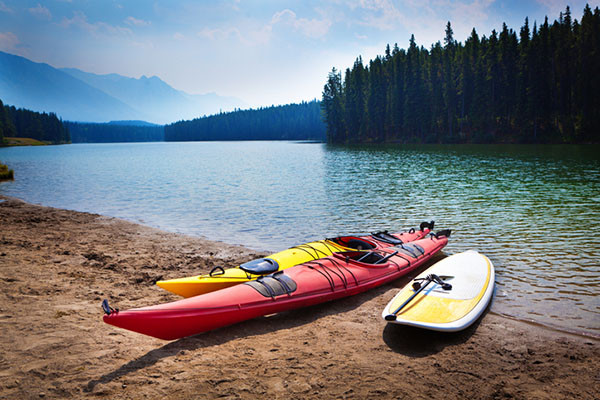 For my birthday last year, I received paddleboard lessons. I was always curious about the popular water sport and watched in fascination as people stood on almost-invisible boards, paddling along as if walking on water.
Paddleboarding was everything I expected and then some. Still, I quickly realized that it is a serious workout, like all paddle sports, such as kayaking and canoeing. It may look effortless, floating along and casually dipping a paddle in water. But much goes on beneath the surface, so to speak. As warmer weather beckons and paddle season arrives, it pays to get key muscles in shape before heading out on the water.
Tuning up muscles: Focus on core, back, arms, and shoulders
"Paddling a kayak, canoe, or paddleboard relies on muscles that we likely haven't used much during winter," says Kathleen Salas, a physical therapist with Spaulding Adaptive Sports Centers at Harvard-affiliated Spaulding Rehabilitation Network. "Even if you regularly weight train, the continuous and repetitive motions involved in paddling require endurance and control of specific muscles that need to be properly stretched and strengthened."
While paddling can be a whole-body effort (even your legs contribute), three areas do the most work and thus need the most conditioning: the core, back, and arms and shoulders.
Core. Your core comprises several muscles, but the main ones for paddling include the rectus abdominis (that famed "six-pack") and the obliques, located on the side and front of your abdomen. The core acts as the epicenter around which every movement revolves — from twisting to bending to stabilizing your trunk to generate power.
Back: Paddling engages most of the back muscles, but the ones that carry the most load are the latissimus dorsi muscles, also known as the lats, and the erector spinae. The lats are the large V-shaped muscles that connect your arms to your vertebral column. They help protect and stabilize your spine while providing shoulder and back strength. The erector spinae, a group of muscles that runs the length of the spine on the left and right, helps with rotation.
Arms and shoulders: Every paddle stroke engages the muscles in your arms (biceps) and the top of your shoulder (deltoids).
Many exercises specifically target these muscles, but here are three that can work multiple paddling muscles in one move. Add them to your workouts to help you get ready for paddling season. If you haven't done these exercises before, try the first two without weights until you can do the movement smoothly and with good form.
Three great exercises to prep for paddling
Wood chop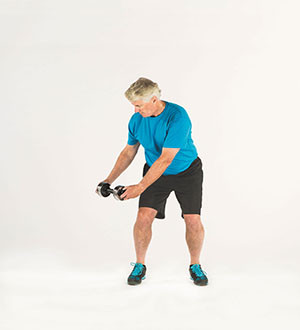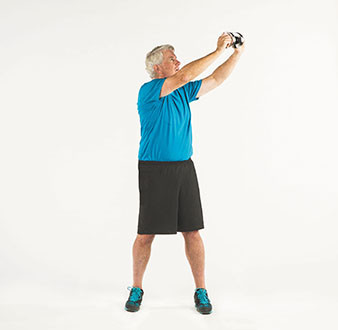 Muscles worked: Deltoids, obliques, rectus abdominis, erector spinae
Reps: 8–12 on each side
Sets: 1–3
Rest: 30–90 seconds between sets
Starting position: Stand with your feet about shoulder-width apart and hold a dumbbell with both hands. Hinge forward at your hips and bend your knees to sit back into a slight squat. Rotate your torso to the right and extend your arms to hold the dumbbell on the outside of your right knee.
Movement: Straighten your legs to stand up as you rotate your torso to the left and raise the weight diagonally across your body and up to the left, above your shoulder, while keeping your arms extended. In a chopping motion, slowly bring the dumbbell down and across your body toward the outside of your right knee. This is one rep. Finish all reps, then repeat on the other side. This completes one set.
Tips and techniques:
Keep your spine neutral and your shoulders down and back
Reach only as far as is comfortable.
Keep your knees no farther forward than your toes when you squat.
Make it easier: Do the exercise without a dumbbell.
Make it harder: Use a heavier dumbbell.
Bent-over row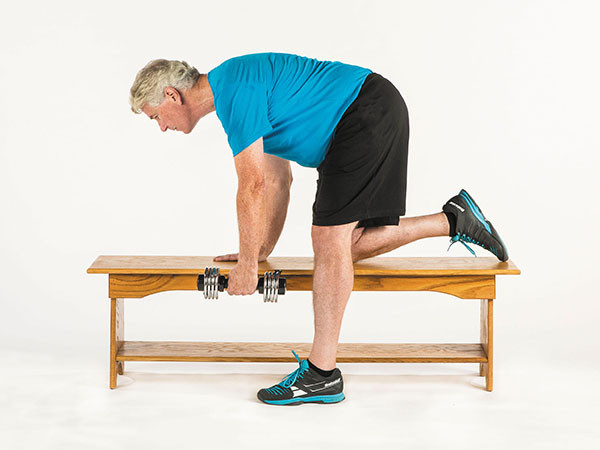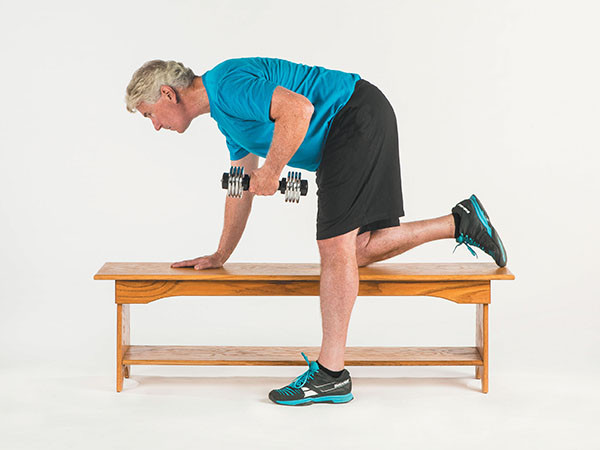 Muscles worked: Latissimus dorsi, deltoids, biceps
Reps: 8–12
Sets: 1–3
Rest: 30–90 seconds between sets
Starting position: Stand with a weight in your left hand and a bench or sturdy chair on your right side. Place your right hand and knee on the bench or chair seat. Let your left arm hang directly under your left shoulder, fully extended toward the floor. Your spine should be neutral, and your shoulders and hips squared.
Movement: Squeeze your shoulder blades together, then bend your elbow to slowly lift the weight toward your ribs. Return to the starting position. Finish all reps, then repeat with the opposite arm. This completes one set.
Tips and techniques:
Keep your shoulders squared throughout.
Keep your elbow close to your side as you lift the weight.
Keep your head in line with your spine.
Make it easier: Use a lighter weight.
Make it harder: Use a heavier weight.
Superman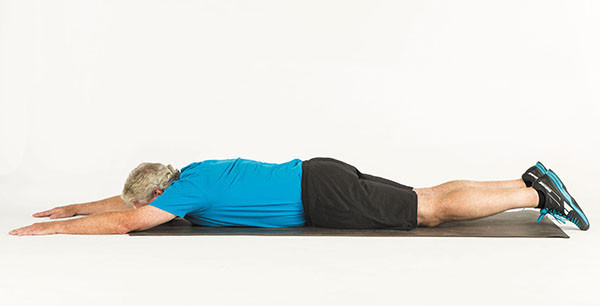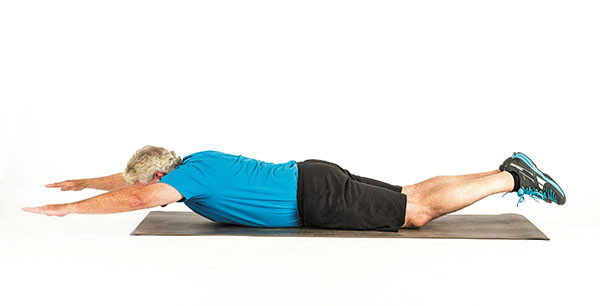 Muscles worked: Deltoids, latissimus dorsi, erector spinae
Reps: 8–12
Sets: 1–3
Rest: 30–90 seconds between sets
Starting position: Lie face down on the floor with your arms extended, palms down, and legs extended.
Movement: Simultaneously lift your arms, head, chest, and legs off the floor as high as is comfortable. Hold. Return to the starting position.
Tips and techniques:
Tighten your buttocks before lifting.
Don't look up.
Keep your shoulders down, away from your ears.
Make it easier: Lift your right arm and left leg while keeping the opposite arm and leg on the floor. Switch sides with each rep.
Make it harder: Hold in the "up" position for three to five seconds before lowering.
About the Author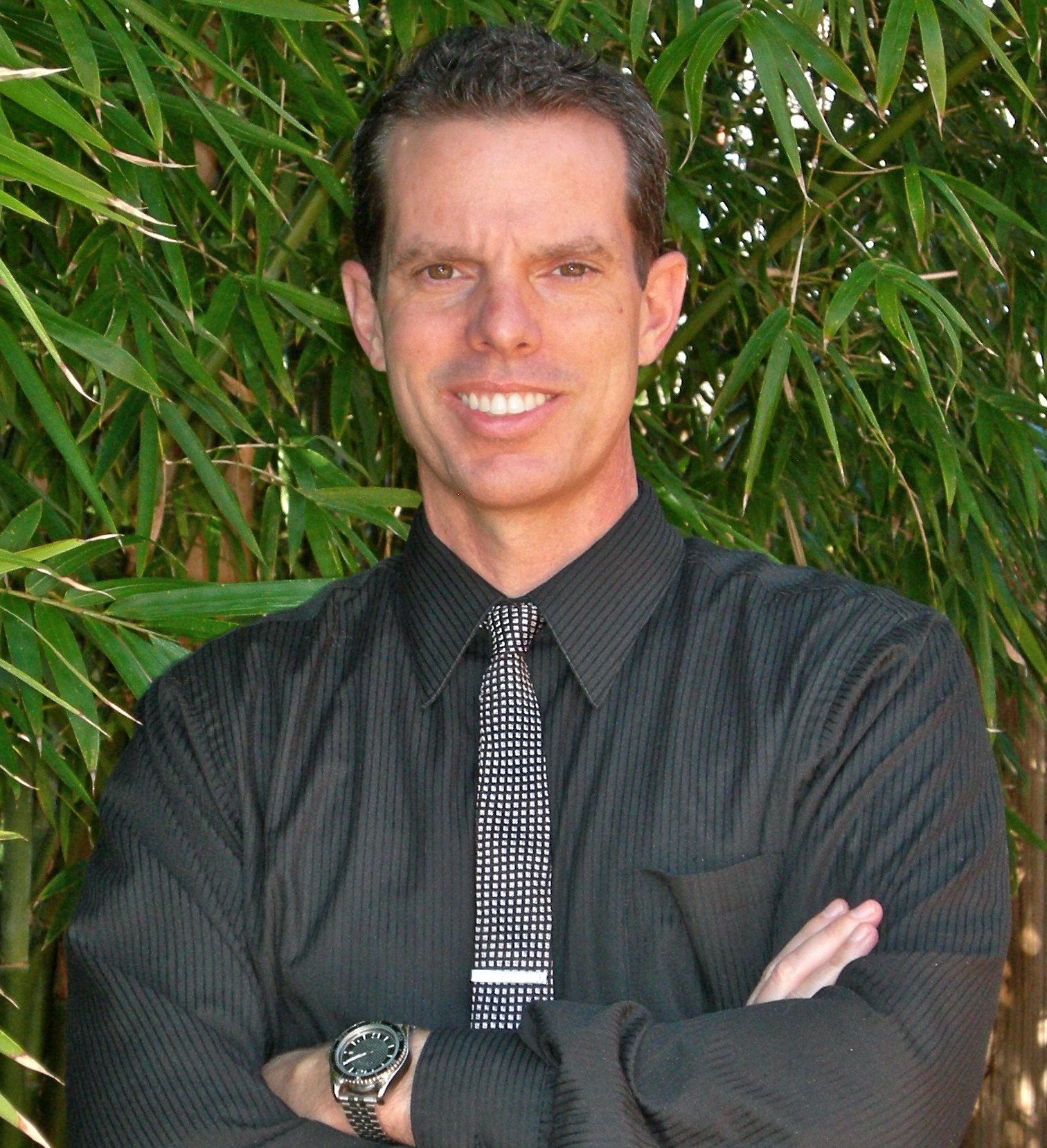 Disclaimer:
As a service to our readers, Harvard Health Publishing provides access to our library of archived content. Please note the date of last review or update on all articles.
No content on this site, regardless of date, should ever be used as a substitute for direct medical advice from your doctor or other qualified clinician.